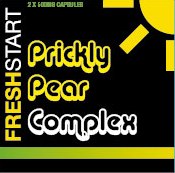 Prickly Pear Complex x 2
£3.99
Prickly Pear Complex ( FREE 1st Class Post)

Pack of 2 Capsules £3.99
Buy 1 pack get 1 pack FREE
Ingredients
Prickly Pear,Magnesium Stearate (Veg source),Silicone Dioxide (Sipemat 22s), Gelatin Capsule, Microcrystalline Cellulose.
Warning.
If you are suffering from high blood presure or take any medication, please consult a Doctor before use.
Not for use by pregnant or breast feeding women. Not for use for persons under the age of 18 years.
Recommended dose is one or two capsules per day.